Fiber Art Workshop, February 22, 23, 24, 2019.
Bring your hand woven fabrics, scarves and table runners. Mary Sue will give you personal guidance for suitable patterns and garment ideas.
The February class is designed for all fiber artists, including felters, weavers, dyers, and surface designers. New and traditional sewing techniques will be highlighted in the 3 day
workshop.
Visit website for more info and registration: LostArtFiberandTextile.com
_____________________________________________________________________
The Clearing Folk School in Ellison Bay, Wisconsin is offering an upcoming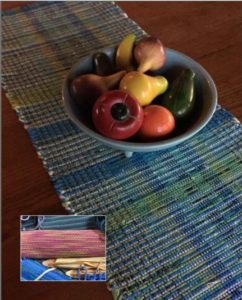 weaving workshop May 26-June 1, 2019. There are still a few openings for the class "Weave It, Don't Waste It: Creating Table Runners with Recycled Materials." Scholarships are available for this class; check out the website for additional details.  www.theclearing.org
The Clearing has recently upgraded their weaving studio with the addition of 6 new 24″ Ashford 4-harness table looms with stands and treadles.  The Clearing Folk School offers a variety of classes and workshops in all media.  _____________________________________________________________________
Tagari workshop
The Tagari, a Greek saddlebag is a colorful woven bag used by Greek shepherds to carry everything from a loaf of bread to kindling for the evening fire. This traditional bag lasts for years of daily use. The secret of its strength and durability lies in the method used to weave the woolen yarns. This is a do-it-yourself project, first offered in 2010, when 14 guild members participated and produced the beautiful Tagaris as you will see in the photos below.
Please click on the photos to see a larger view.
Fee: $15.00. The folder will explain of the construction, the history, and the use of the Tagari. In each folder you will have a choice of four designs along with eight layouts of how to arrange the colors on your bag. Included in the folder are illustrations of how soumak can be added as an embellishment. Each participant will need to purchase 2 pounds of yarn, either from the Yarn Barn or Blackberry Ridge Woolen Mill in Mount Horeb. The reason for purchasing yarn from these two companies is because they each carry the 2-ply bulky yarn @ 600 yards per pound needed. The bag will be woven as a weft-face weave, using Maysville cotton as warp, sett at 8 epi. The shoulder strap can easily be woven on an inkle loom.
The Madison Weavers Guild organizes workshops on occasion. We will post information regarding future workshops as it becomes available.